Before I get to the point of my writing today, I must follow-up on my last blog...you know, the one where we asked for $50,000 for our unsponsored students to finish the school year strong? God never ceases to amaze me. While we did not fully reach the $50,000 goal, we were able to pay every school bill that was immediately due. So, we count that as a great success! With almost $35,000 donated by so many of you generous people, we are able to finish the year stronger than we were before. We had new donors who joined us, an incredibly generous church who gave, and so many who are already sponsors and supporters, who went above and beyond their monthly donations to faithfully support these efforts. So, thank you to ALL who gave to our Unsponsored Student Fund! We are forever grateful.
____________________________
And, now for UNIVERSITY 101!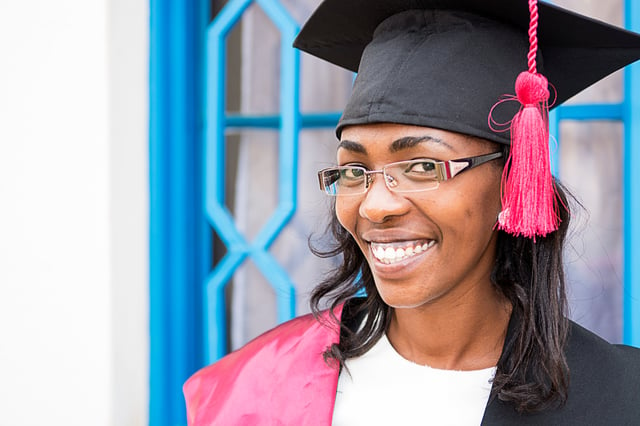 Benjamin Franklin once said, "An investment in knowledge always pays the best interest."
Nelson Mandela said, "Education is the most powerful weapon which we can use to change the world."
And Solomon said, "An intelligent heart acquires knowledge, and the ear of the wise seeks knowledge." (Prov. 18:15)
Today, we are celebrating the truth quoted so eloquently by all three of these wise men. We want to share a portion of our program that doesn't always get the attention that it deserves. This group is comprised of some of our most humble, kind, hardworking, and academically successful students. They are always the first to help us with our younger students. They are self-motivated and ready to change the world in Rwanda and beyond. And, they have literally risen above adversity in their lifetime that you and I simply cannot imagine. These are the young men and women of our University Student Program, and the oldest students in our program.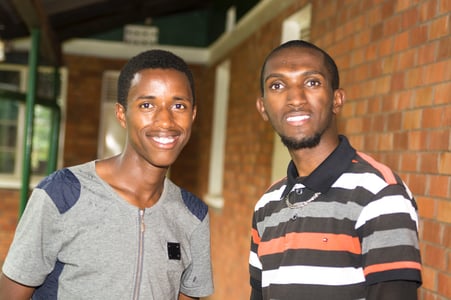 From the beginning of our His Chase sponsorship days in 2011, and through to this fall semester in 2016, the number of university students enrolled in our program have TRIPLED! As our younger His Chase students continue to grow up, we know that the need for university sponsorship will continue to increase. And this is absolutely the BEST "problem" to have!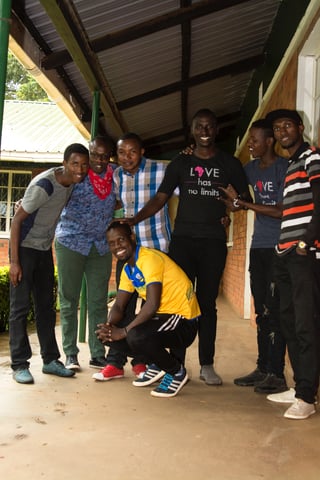 We literally daydream about the days when His Chase students are living the life they dreamed of, supporting themselves and their families, and influencing the world around them for good. And we know these dreams WILL become reality.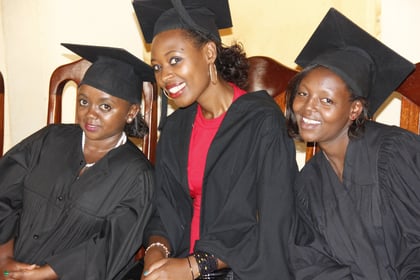 This is the important thing to know: When we began this educational program, we never intended to only commit to these kids for a season. We have committed to them for the entire duration of their educational journey. And, for many of these students, that is the difference maker in how high they set their eyes, and how far they reach for their goals. With the knowledge that they WILL be supported all the way through college, they aim high and bust through that glass ceiling. We have "graduated" our first group of students this year, and it is so fulfilling to see the smile on their faces as they wear their cap and gown, hold that long-anticipated diploma, and make preparations for their future.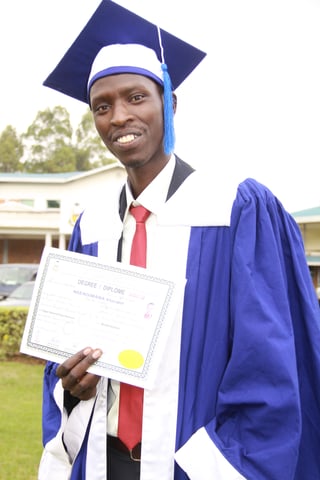 Friends, these are the moments when satan is defeated in the lives of these precious people! Many would say that the odds have been stacked against them and that the likelihood of becoming a college graduate are LOW. But, these students---they don't accept that. They don't stop. They don't become discouraged. They just keep aiming high, and we believe that God will continue to call more and more of our students to the future He has planned for them, as they seek Him and continue to seek wisdom and knowledge as well.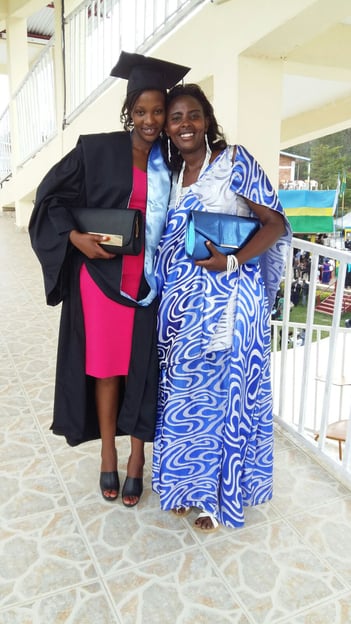 So, this post is simply a post to acknowledge our AWESOME university students! We want to list them each by name, so you know who they are, what they are studying, and how MANY there are!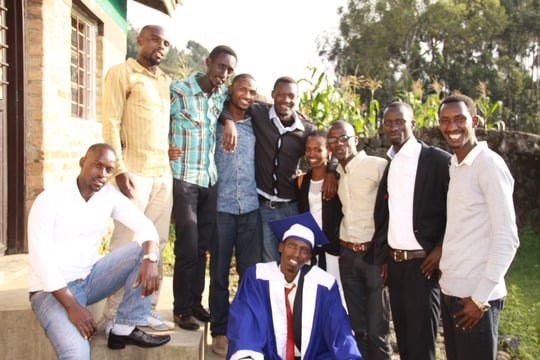 HIS CHASE 2015-2016 GRADUATES
(who completed coursework within the last year)
Amelie, Diana, and Pascasie graduated in 2015 from Akilah Institute for Women
Delice graduated in July 2016 from University of Rwanda
Donatilla graduated in July 2016 from Kigali Independent (ULK) in Gisenyi
Vincent graduated in from Institute of Applied Sciences, Ruhengeri
STUDENTS AWAITING GRADUATION IN EARLY 2017:
Josephine, Vestine, Agnes, Chantal, Jeanette, and Sylvie, graduated in February 2017 from Rwanda Tourism University College (RTUC) in Gisenyi
HIS CHASE STUDENTS ACTIVELY SEEKING UNIVERSITY DEGREES:
Patience (Year One), Business Administration at LivingStone International University (LIU) in Mbale, Uganda
Andre (Year One), Business Administration, LIU in Mbale, Uganda
Theogene (Year Two), Business Administration, LIU
Donath (Year Three), Business Administration, LIU
Eric (Year Four), Business Administration, LIU
Emmanuel (Year Four), Business Administration, LIU
Eric (Year Four), Business Administration, LIU
Beatrice (Year Four), Bachelors of Nursing at University of Gitwe
Julien (Year Four), Land Survey at INES Ruhengeri
Eric (Year Four), Business Management at INES Ruhengeri
Dominique (Year Two), Information Technology at INES Ruhengeri
Daniel (Year Two), Business Information Technology at RTUC Kigali
Ben Mugisha (Year Four), Bachelor of Pharmacy at Mount Kenya University
Abdu (Year Four), Accounting/Enterprise Management at INES Ruhengeri
Thomas (Year Four), Enterprise Management at INES Ruhengeri
Emmanuel (Year Four), Land Survey, INES Ruhengeri
Laurantine (Year Four), Accounting, INES Ruhengeri
Fabien (Year Four), Entrepreneurship, INES Ruhengeri
Dominique (Year Four), Business Management, INES Ruhengeri
Regis (Year Four), Civil Engineering, INES Ruhengeri
Jacques (Year Four) Biomedical Laboratory Sciences at University of Rwanda
Dominique (Year Three), Economics at Adventist University of Central Africa
NEWLY ENROLLED UNIVERSITY STUDENTS for FALL 2016!
Andre and Patience (listed above) joined LivingStone International University in Uganda
Liliane (Year One), Business Administration at Jomo Kenyatta University
Drocella (Year One), Business Administration at Jomo Kenyatta University
Marie Claire (Year One), Environmental Engineering at ULK Rwanda
Dominique (Year One), Electronics at IPRC
Gilbert (Year One), Computer Engineering at Adventist University of Central Africa
Paradise (Year One), Marketing at UNILAK Rwanda
Maurice (Year One), Mechanical Engineering at UNILAK Rwanda
Now, THAT is an impressive list of hard-working kiddos!!
For those who are wondering (we KNOW there are a few of you out there?!), YES we do need more university student sponsors! :) As our students progress, the cost increases as well. And as our entire His Chase program continues to get older, our number of higher-education students rise as well.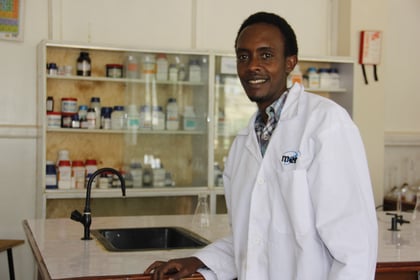 Each of our university tuitions range between $1800-2400 per year, as opposed to the $1200 per year for elementary and highschool levels. It is certainly harder to find sponsors at the higher price level, but we are always happy to have even partial sponsorship for each student. If you have questions about the needs of our university sponsorship program, or would like to get involved with sponsoring any of these students, please email us at info@hischase.org, and we would be happy to give you more information!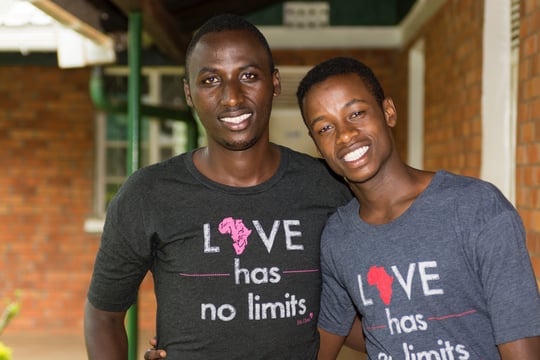 We'll end "University 101" with a final CONGRATULATIONS to each of our awesome college kids for all the ways they are leading and changing the world!! We are so incredibly proud of you and are praying for the year ahead!