I will never forget where he was standing when it happened.
He was at our kitchen sink, and I could only see part of his face from where I was sitting, in my favorite place on the couch. It had only been three days since Mark and I had come home from the hospital, and had begun walking through the dark valley of losing a child. I say we were walking, but we were not. We were limping, crawling, standing still, laying down, being carried..but not alot of walking, yet.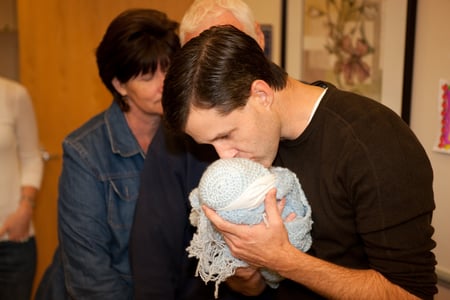 I surrounded myself, in those early days of grieving, with song. Worshipful words that filled my mouth and soul with what I could not find or express myself. So, a constant stream of music was playing in our home.
While Mark stood at the kitchen sink, fulfilling many of the household chores that I couldn't do yet, one of my most cherished songs over the years, Legacy, by Nichole Nordeman, began to play. I had cried through many a song by this day, so it was not my own tears that made this memory cement itself in my mind.
It was my husband's tears. Sure, he had cried many times in the days since we said goodbye to Chase. But, this was one of the first times, since the hospital, when he had wept.
These were the exact words that brought him to tears:
"I want to leave a legacy,
How will they remember me?
Did I choose to love? Did I point to You enough,
to make a mark on things,
I want to leave an offering,
a child of mercy and grace who blessed Your name unapologetically,
I want to leave a legacy."
As he shared his heart with me, I will never forget his determination---what I would describe as THE moment he received his call from God. He knew right then what he was to do as Chase's daddy. He said, "Our little boy didn't get to leave a legacy of his own, but it is my job as his dad to do that in his name. I want his life to make a mark on things."
We sat and prayed in those moments for God to take this tiny life of our son's---and to take our own tiny lives---and make a mark on things as only He could, so that others knew of His love and mercy and grace.
We had no idea what He would bring. We had no idea that this call would literally change every day of our lives after that.
But, I did know my husband's heart. And, I knew that it was no ordinary moment at that kitchen sink. Mark was created to be a daddy. He was formed with a heart of compassion and dedication, and was given a spirit that has always made a mark on things, wherever he is and whatever he is doing. (In fact, his NAME is Mark! He was "mark"ed from the beginning! :) )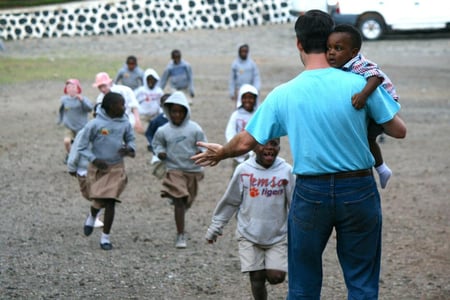 So, as we prepare to celebrate his 40th birthday in two days, and I anticipate sharing with him the
AMAZING surprise
that so many have participated in, I can not WAIT for him to see how his life--because of God's hand--is making a mark on things.
Friends, you have willingly given over $70,000 for this birthday surprise, to help our unsponsored students finish this school year strong. That is absolutely amazing, and the work of a mighty God who stirs hearts, provides for needs, and shows his mercy and grace and deep love through His people.
So, as I say a humble and tear-filled THANK YOU to each of you, and as I honor this man I love, I honor you AND him not for the things any of us have accomplished on our own, but for the willing hearts I see in each of you, to live out the lyrics of this song.
May we continue...
To choose to love.
To point to Him enough.
To make a mark on things.
To live life as an offering.
THANK YOU, from the bottom of our hearts, for joining us in this legacy...and for joining God by making a mark on things through your offerings.