When we boil down all the fancy words, the lists of goals, and the mission statements of His Chase, what really fuels this entire ministry is LOVE. Love is the end goal---that our students will know and understand how deeply they are loved, AND that they turn what they've received into what they give away, living lives centered around loving others. And all of this is possible, only because generous people share their love with these kids, through their support, encouragement, and prayer.
So, when we began to consider what we wanted our next His Chase tshirt to communicate, we knew it had to be all about love...again. For those who own a previous His Chase tshirt, you already know that our tshirts have that theme, because that's what we believe we're called to do: "Share the LOVE", and to do that with no limitations, because "Love has NO LIMITS".
This year, our third tshirt is just extending that message---that it's ALL about loving others.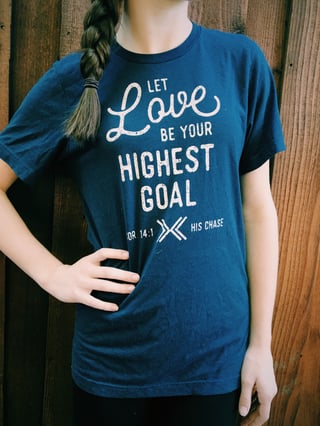 Because...what if we ALL really did "let LOVE be our highest goal"? In a world full of hatred, division, self-centeredness, and pride...what if we had no other higher goal than LOVING each other? It's almost impossible to imagine, but it's what God called us to , and it's what would truly cure the hurt in the world around us.
And, as soon as the scripture popped out on the page to me, I knew it was the perfect new shirt theme for His Chase. It truly IS our highest goal for this ministry, and the students we serve. Education is excellent, food and safety are paramount, and opportunities to succeed are a blessing. A healthy self-confidence, the development of gifts and talents, and a strong faith in Jesus are what we pray for and dream of for each child. But, above ALL of that, we pray that LOVE is the highest goal of each student's life, and that above all other things, they KNOW that LOVE is what God calls us to wave as our banner, and declare as our purpose...as our highest goal.
"Let LOVE be your highest goal". It's a scripture I've missed most of my life, hiding right behind the well-known passage of 1 Corinthians 13. But, its simplicity is powerful, and we pray it is our anthem as a ministry, and as people of God.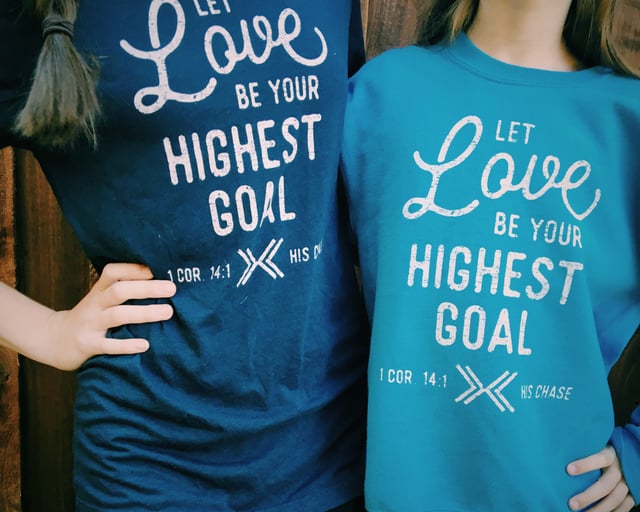 So, it's TIME!! The store is loaded with new shirts for you to order (CLICK HERE!)---short sleeved, long sleeved, and sweatshirts! So, hurry and go purchase today! Give them as gifts this year, and as you do, know that each shirt you buy, gives a new shirt to one of our students, AND every penny beyond our printing costs goes to the sponsorship of His Chase kids.
We can't do this without you. And, we so appreciate you ordering shirts! Even more than that, we are thankful to be surrounded by so many people who are making LOVE their highest goal. With that as our banner, we enter 2018 knowing that God will keep pouring out HIS love onto all who are a part of this BIG His Chase Foundation family.
***Order by December 16th for Christmas gift arrivals!!***